Green Valley Site Kicks Off Construction on Carbohydrate Drug Manufacturing Facility in Shanghai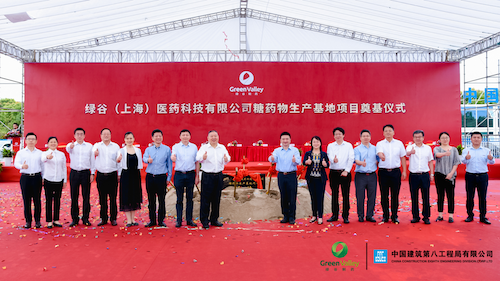 On July 17, 2020, Shanghai Green Valley Pharmaceuticals (Green Valley) officially kicked off construction on its carbohydrate drug manufacturing facility in Shanghai International Medical Science Park, which will be the third GMP standard manufacturing site of Green Valley after the ones in Shanghai and Liaoning, and will be the first manufacturing site in China that supplies carbohydrate drugs globally.
The 1.2-billion-yuan construction is expected to be completed in 2024. It will have a total floor area of 55,000 square meters. The manufacturing site will be constructed based on the GMP standards of China, US and European Union to meet global quality standards.
As an innovative Chinese pharmaceutical company that pioneers new treatment strategies in the area of chronic and complex diseases, Green Valley announced NMPA approval of GV-971 for treatment of mild to moderate Alzheimer's disease and improving cognitive function on November 2, 2019. The innovative carbohydrate drug is the first novel drug approved for Alzheimer's disease globally since 2003.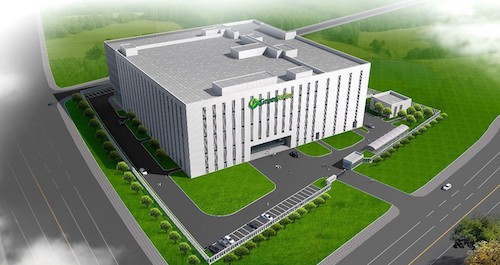 architecture rendering of Green Valley carbohydrate drug manufacturing facility
The new manufacturing site will increase the capacity of GV-971 and other carbohydrate drugs to meet the needs of more patients. With advancement of its global multi-center Phase III clinical study, GV-971 is expected to become the first original and novel drug for Alzheimer's disease in China to be launched globally.
"The new manufacturing site will play a critical role in implementing the strategy of Green Valley and achieving the mission of advancing Chinese original and innovative drug globally to bring new hope to the patients worldwide," said Mr. Lv Songtao, Chairman of Green Valley.
The State Council has issued a guideline to implement Healthy China initiative and vowed to decline incidence of disability among elderly people aged between 65 and 74 in 2022, and slow the growth of dementia morbidity among those aged 65 and above in 2030. Among the innovative Chinese pharmaceutical companies that response positively, Green Valley will continue contributing to Healthy China 2030 with the invention of GV-971 and its production at the new manufacturing site.